T-Shirt Printing And Fulfillment Services
If a picture is worth a thousand words, how many words is a tri-blend graphic t-shirt worth to your marketing word of mouth? Whether you use tees as a compliment to your workforce, promotional material, or general merch, a good tee goes a long, cost-effective way. Say hello to t-shirt marketing! 
Swag-focused marketing campaigns, and apparel campaigns at large, have become a staple of companies of all shapes and sizes because of their generally low financial commitment and enormous marketing upside. If you're looking for a practical yet exciting marketing push that will gain the attention of existing customers and new clients, a t-shirt marketing campaign is a great way to start a branded apparel collection. To get you started, here are some tips to make sure your first t-shirt marketing efforts are en vogue.
Why T-shirt Printing and Fulfillment Make a Great Marketing Campaign
Using branded apparel fulfillment to promote business has become an incredibly popular way to market your business, and it's easy to see why. According to an article in Forbes Magazine, 85% percent of consumers do business with a company after they have received a promotional piece of clothing. Furthermore, 89% of businesses recall another business up to two years after receiving a promotional item from them. Putting your logo on a piece of apparel like a t-shirt provides both existing and potential customers with lasting exposure to your brand. Plus, it gives them a sense of being a part of your brand experience on a regular basis.   
T-shirt marketing can be an uncommonly bold and innovative way to promote your brand and enhance your company's exposure to a variety of new markets. The key to making sure it's a successful venture is doing it right. Use an experienced printing and fulfillment company like Print Bind Ship to help you design your t-shirt and oversee managing orders. This allows you to continue to manage your new clients while reaping the benefits of a smart t-shirt printing and fulfillment strategy.
Make Customers and Staff Walking Billboards
Branded t-shirts have become the norm, and with on-demand printing, and today's drop culture, a whole other revenue stream for a modern business. By offering t-shirts to staff and clients alike, you're not only creating a tangible "value add" bonus, but you're also turning both groups into walking billboards, and a continual visual representation of your brand. By using a professional t-shirt printing and fulfillment company like Print Bind Ship.
Simply send us your logos and brand files, we can set up a custom store with many items, including t-shirts, hoodies, jackets, backpacks and more. Allowing staff and customers to order their own size and color preferences, this saves the company time and money.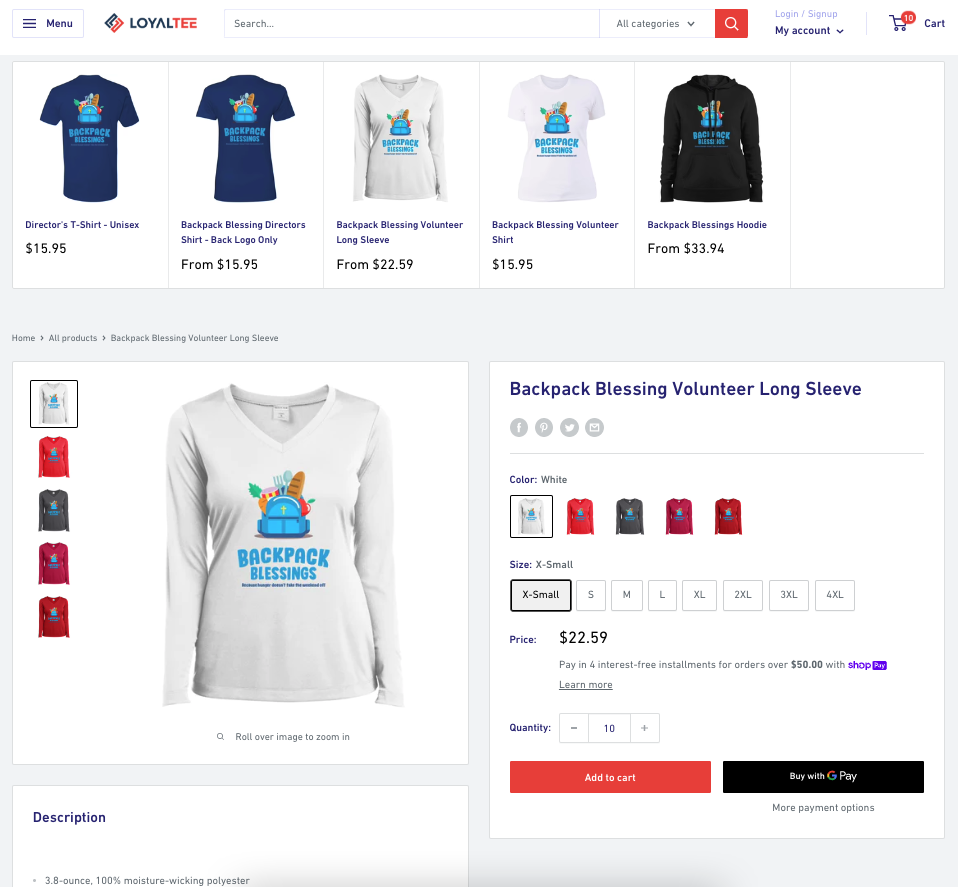 Enhance Customer Loyalty
Everyone loves a good deal, but there is nothing better in the world than a good freebie. When something is free and quality, everyone wants one, and when that something is a t-shirt with a well-designed logomark or brand reinforcement from a company we trust, it's a bonus that makes us feel valued or at least look cool.
Today's digital landscape means there are lots of businesses vying for the attention of customers, which makes it essential for companies to find sticky methods to stand out from the pack. Using branded t-shirts to thank a customer for an order or to onboard new clients lets them know how important their business is to your company. And it makes them feel you're investing in a relationship with them. There's also significantly more marketing staying power in a renewable, reusable branded item like a t-shirt than an inanimate desk object that gets buried under paperwork.
Custom T-shirts are Really Easy
One of the best aspects of running a T-Shirt marketing effort is how effortless it can be for your business to launch one, particularly when you enlist the services of an experienced print and fulfillment expert like Print Bind Ship.
The process is straightforward and honestly quite fun. Most print and fulfillment companies have several designs of t-shirts to choose from and can help you determine which style or materials are best for your t-shirt marketing endeavor. If you already have a great logo or slogan you want on the t-shirt design, you simply provide that to your printer, and they can take it from there.
Stuck on an idea? Print and fulfillment companies like Print Bind Ship have been in the business a long time and can provide you with design tips, or even help you create a logo if you're starting at square one. An experienced print shop will help you determine the best way to showcase your design and ensure your final t-shirt delivers maximum brand impact.
Once you've settled on a design and provided your distribution list to your fulfillment company, you can essentially sit back and watch the promotion work for you. A qualified fulfillment company will handle distribution, filling orders, inventory stock, and keep you up-to-date on the key performance indicators (KPIs) of the promotion. A well-organized t-shirt marketing plan is one of the easiest promotional campaigns you'll ever use, and will allow you to reap renewable benefits time and time again!
How T-shirt Printing & Fulfillment Work
T-shirt marketing campaigns can be a great method to employ when looking for ways to reach out to existing clients, particularly those you may not have had much contact within a while.
Consider this example: With the impact of the Covid pandemic, a small construction company that had relied on door-to-door sales calls as a big part of its marketing efforts needed to pivot when social distancing became a factor. Rather than focusing so exclusively on new clients, they looked for ways to reach out to customers who had used their services before, but who they may not have heard from recently.
Utilizing the fact that many people were spending significantly more time in their homes, the company came up with an ingenious idea. They hired a t-shirt print and fulfillment company and designed t-shirts with them that included the slogan "This is my home office t-shirt" on the front and their company logo on the back, and included a note for an offer for a free consultation for a home office addition to their home.
The response to this campaign was huge, as were the results. For customers, it included the benefit of a free consultation for something customers might need, and also took the stressful situation of Covid and working from home and turned it into something positive. For the construction company, It provided a smart, inventive way to reconnect with stagnant customers and turn that reconnection into a profitable business opportunity; and everyone got a great t-shirt out of it, too!
Decide on Your Message
When looking at the best possible plan for launching a t-shirt marketing campaign, it's good to determine your goals and audience first. Are you making a general campaign where all clients and potential customers will be receiving a t-shirt, or do you want to begin with a more targeted approach? Both can be beneficial, it just depends on your end goals.
Determining the scope of the campaign and your audience will help inform the design and messaging of the t-shirt. With a more general campaign, you might want to keep the design to your logo, motto, and brand colors. However, if you plan to create a t-shirt campaign to announce a new product, you might want to include something about the product on the shirt, and streamline the receiver list to those who might be the most likely to want or need the new offering.
Sometimes scarcity can drive want  For example, if you decide to do a t-shirt fulfillment campaign for customers that have signed up for a specific service, letting your target audience know via your website and social media efforts, that during a limited time those who sign up for the service will receive a limited edition t-shirt can be the incentive a potential customer needs to push them over the top to make the purchase. 
One final consideration is sizing. Obviously, you'll want to make sure that the t-shirts you're sending out as a promotional item are being worn and enjoyed by your intended brand ambassadors, so you'll want to ensure you give sizing careful thought. Remember, it's always better to have a t-shirt that's too big rather than too small. Working with an expert on t-shirt promotions like Print Bind Ship will make this process easier, as they can advise you on size charts and fabric durability.
Design & Print
Since your t-shirt promotion is meant to be a tactile and visual representation of your brand, you'll want to make sure you're choosing a high-quality product. Things you should consider when choosing a t-shirt fulfillment service include:
Whether you should choose a full cotton or poly/cotton mix
Durability and shrinkage
Whether or not the shirt material will take your logo design well
What printing method will be the best option for your t-shirt design
How many colors will be used in the process
Typically, the more colors needed to print your logo and design, the higher the cost of printing. You'll want to be mindful of this when finalizing your concept, along with t-shirt material and other cost factors.
Hire a T-shirt Printing & Fulfillment Service
Once you've determined the right t-shirt marketing campaign to promote your business, the next step is finding a professional 3PL to manage the process for you. While it might seem like handling fulfillment in-house would be a money saver, typically, the exact opposite proves true.
Trying to calculate shipping costs and packaging methods is time-consuming, and pulls you away from the daily tasks of running your business. Fulfillment companies' knowledge of packaging and shipping methods results in lower freight costs and more efficient packaging processes, and these are savings that get passed on directly to your bottom line.
Print Bind Ship is Your T-shirt Marketing Headquarters
The best thing about working with a 3PL like Print Bind Ship? We're a true one-stop shop. From the conception of your project, through printing and fulfillment, we pride ourselves on being a true partner to our customers. We continually strive to uncover new and innovative ways to help our clients market their brands and create strategies to make promotions easier and more successful. Looking for a new way to market your business, or get your brand some attention? Check out some more of our Learning Center articles for some cutting-edge ideas!
Request A Quote
Streamline online sales along with your fulfillment process, and focus on growth.