Founded in 1977, Indigo was created by Benny Landa, known as the father of digital offset printing. Acquired by Hewlett-Packard in 2001, Indigo became known as the HP Indigo Division, which was a subdivision of HP's Graphic Solutions Business, which has the widest printed output flexibility that ranges from the size of postage stamps to building wraps.
As the pioneer of digital printing press technology, Indigo started as a research & development farm, making advancements in copier technology such as sheet cassettes, commonly referred to as trays. By the early nineties, Indigo's e-print technology was introduced, forever changing the world of offset printing.
It accomplished this by removing the need for the intensive labor and expense of creating plates. The e-print system's ability to print directly from a computer file dramatically lowered the cost and time of a short-run printing press.
In 1995, Indigo introduced Omnius, which brought the e-print's short-run digital printing abilities to a mass option that allowed for the multi-surface printing technology that HP Indigo is known for today.
How Does Indigo Printing Work?
A large-scale choice for digital presses, the Indigo printing process gained popularity for its unique ability to copy the quality and consistency of offset lithography, commonly known as offset printing.
By altogether skipping the need for plate-making, the HP Indigo uses thermal offset transfer via its Liquid Electrophotographic printing technology which allows the ElectroInk to turn into a smooth film that can transfer onto the material being printed on.
The ElectroInk, also known as Indigo Ink, blankets the target area to be fully transferred in high detail to the substrate.
What Is Indigo Ink Used For?
The use of the ElectroInk, Indigo Ink, replaces the need for digital plates, with the thermal transfer within the ink itself, up to 97% of PANTONE colors can be achieved, including the possibility of PANTONE matching with a truly offset feel.
Nearly pigment-agnostic, Indigo Ink can produce a wide array of colors, shades, and spot colors that no other digital printing presses of today can create. Outside of the range of pigment capabilities, Indigo Ink can create, the HP Indigo series prints in extremely thin ink layers with the highest coverage, deepest color, and economically uses ink.
With 17 Indigo Inks, the HP Indigo has the largest variety of inks in the whole of digital presses.
Which Substrates Is an Indigo Machine Compatible With?
With Indigo printing, the possibilities of substrates are virtually endless. Not only can the HP Indigo print on any roll-fed or sheet-fed material, but printers can also use Indigo printing for:
Photo Paper
Canvas
Self-adhesives
Folding Cartons
Balloons
Plastic Cards
Wall Paper
Direct Mail
Tubes
Heat Transfer
Metalized
What Is HP Indigo Certified?
The HP Indigo certification program is a multi-pronged approach for HP to work hand-in-hand with substrate manufacturers and HP digital press owners to test and evaluate substrate compliance with Indigo printing presses.
After going through an initial screening process, new substrates are tested at length to develop a rating of how viable the material is. After the completion of the evaluation and rating stages, the details of the certification are released to Indigo printing users, which is used to create a knowledge database for owners.
Available Applications for Indigo Printing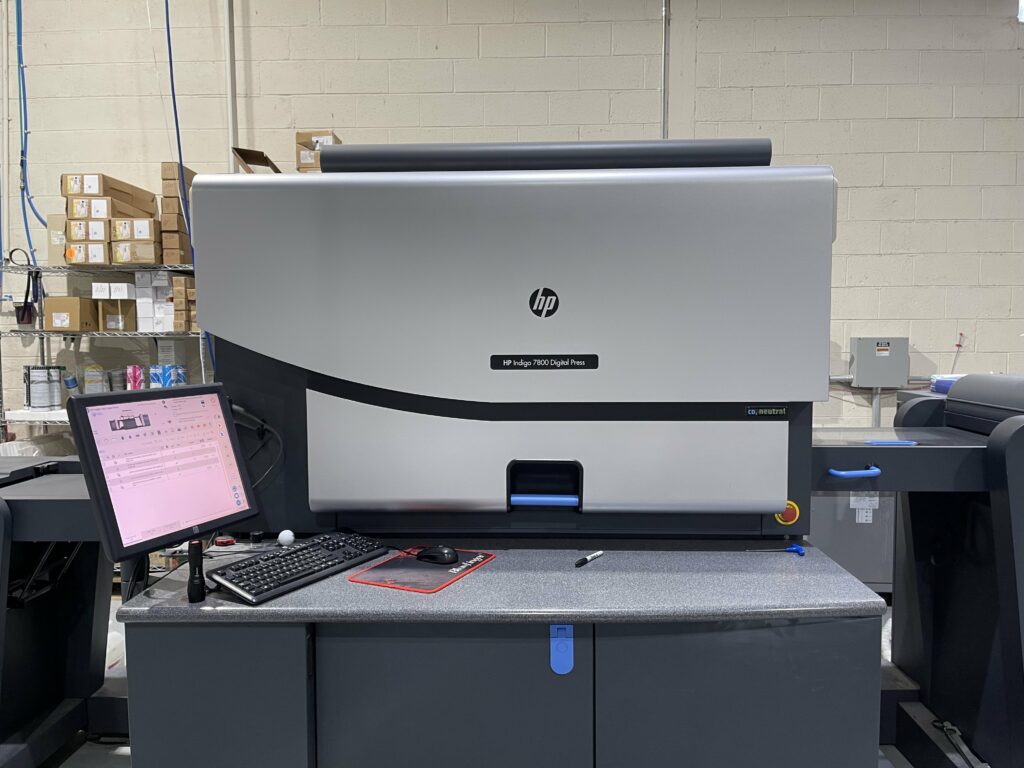 With a host of substrates available and the broadest media gamut available on the market, the applications for Indigo printing are numerous, but the true testament to the versatility of this digital printing press is its commercial viability.
Commercial Printing
Having the largest available color gamut, the HP Indigo series moves far beyond the capabilities of a consumer inkjet or laserjet printer, and with the largest amount of media and application uses for Indigo printing, it also outperforms all other digital printing presses.
Outside of its color applications being unmatched, the HP Indigo has the highest speed to quality ratio on the market, whereas other digital presses lose quality based on speed, with the Indigo's printing process, the ink transfer maintains physical contact at every step of media coverage while also conserving on ink usage to be appropriate for the medium being fed,
Labels
With over 80% of the market share, the Indigo printing blanket technology allows for labels to reshape their use cases, moving to full sleeves and in-mold labels.
Because of the HP Indigo's roll or sheet-feed options, paired with the built-in Spot Master and Automatic Alert Agent, Indigo printing allows printers to spot check their colorwork with the original files and then lock in the print that should be repeated.
Finally, with Indigo Ink there is no need to wait for the media to dry, meaning labels can be printed quickly, consistently, and effectively.
Folding Cartons
With a range of Indigo printers with carton printing capabilities, there are specific options available for folding cartons. From visually imperceptible watermakers for supply chain management to multilayered unique ID protection to combat counterfeiting and fraud, the HP Indigo press once again proves its versatility among a range of substrates.
Flexible Packaging
As the digital printing industry's fastest-growing segment, digitally printed flexible packaging is still very green, while the HP Indigo is one of the few digital presses that is working to keep actually creating a process that remains ecologically green. With over 250 vendors designing substrates that are ready for Indigo printing, HP is both leading the on-demand flexible packaging industry and inventing it simultaneously.
Advantages of Indigo Printing
With over 25 years of leading the label-in-any-size industry, the HP Indigo is one of the most versatile commercial printers on the market.
Widest variety of inks available with up to 97% of Pantone colors available.
Since you can print on a nearly endless amount of substrates, you can print for nearly any coverage.
Quality is independent of speed.
The Indigo certification program is expanding the available tools for the future of commercial printing.
Disadvantages of Indigo Printing
Though the Indigo Indigo press is probably one of the most versatile digital presses on the market, rarely anything is ever a one-size-fits-all solution.
If a substrate or paper stock isn't Indigo-approved, it may not work.
Though raised printing is available, for the most authentic raised lithograph feel, a heavier run may be required.
Cost-wise, the job you need to be printed may make more sense to do with a different machine simply based on your run size and deadline.
Digital Printing vs Offset Printing
With Indigo printing, printers have the option of getting the best of both worlds due to the large scale and large format of things this digital printing press can do, but sometimes a printer, or a client, may want the classics.
Some users have found that even raised Indigo Ink is soft to the touch and doesn't always come out as glossy as the would with offset printing when printed on coated substrates.
Don't Stress Over the Press! We've Got It.
With some of the lowest BOM for short or long print runs, using an Indigo printing press gives the greatest number of options for substrates in the industry. From cards to car wraps and other options in between, the Indigo printing press can handle a wide array of jobs. Print Bind Ship presses are ready for you 24/7!