What can't you buy online these days? By simply grabbing your phone and connecting to a few apps, you can order a pizza, a movie, some sod for your lawn, a new engine block for your car, school clothes for the kids, a reclining couch, groceries for the week and a new phone to replace the one you're using to order that new phone.
One enterprise that's fairly new to the world of digital sales is the beauty industry. Makeup and beauty products are highly personal and have often relied on in-person demonstrations and viewings to push sales. But now? Beauty is going digital.
What Is Beauty Product Fulfillment?
This guide will show you how beauty product fulfillment works and why cosmetics warehousing is replacing the traditional ways of brick-and-mortar stores. If you're an influencer, entrepreneur, existing e-commerce store owner or seller of beauty products who wants to expand, then beauty fulfillment is an excellent way to enter new markets.
How Does Beauty Product Fulfillment Work?
With beauty fulfillment, a third party, such as Print Bind Ship, will handle the forecasting to assess demand, source the items, take receipt of them, act as the makeup warehouse and deliver the goods to customers.
Your followers don't have to head into a retail space to buy your cosmetics — they can order them directly. You'll show them what the products look like on your digital storefront and social media pages and entice them to buy. Instead of relying on a dozen or so players in the beauty supply chain, you have one — Print Bind Ship.
Now, we'll break down the specifics of what you'll need for quality beauty fulfillment:
Forecasting
One of the most important aspects of packaged goods and cosmetics order fulfillment is forecasting, a technique that follows customer habits to determine how much inventory is needed for a given product.
Print Bind Ship tracks user data to see which products customers order and in what quantities, which will let you estimate how much product to stock.
Purchase Orders
When your customer submits a purchase order, it will go to Print Bind Ship, where we'll handle packaging the items for shipment. This is more than the shopping cart on an e-commerce site, as the purchase order is a legally binding contract where the customer has promised to pay for the items contained, protecting you should they change their mind.
Warehousing
For cosmetics, warehousing is particularly important, as certain products can become dangerous if improperly stored. We'll ensure they are kept at the right temperatures, away from possible allergens and moved carefully. Print Bind Ship not only keeps track of where products are, but we also make sure nothing is expired when it's shipped out.
Packaging
Make your packaging memorable. Every package should be ready for an on-camera unboxing and provide a wow factor. Our designers will create breathtaking designs while our packers ensure it's all safe and secure for shipment.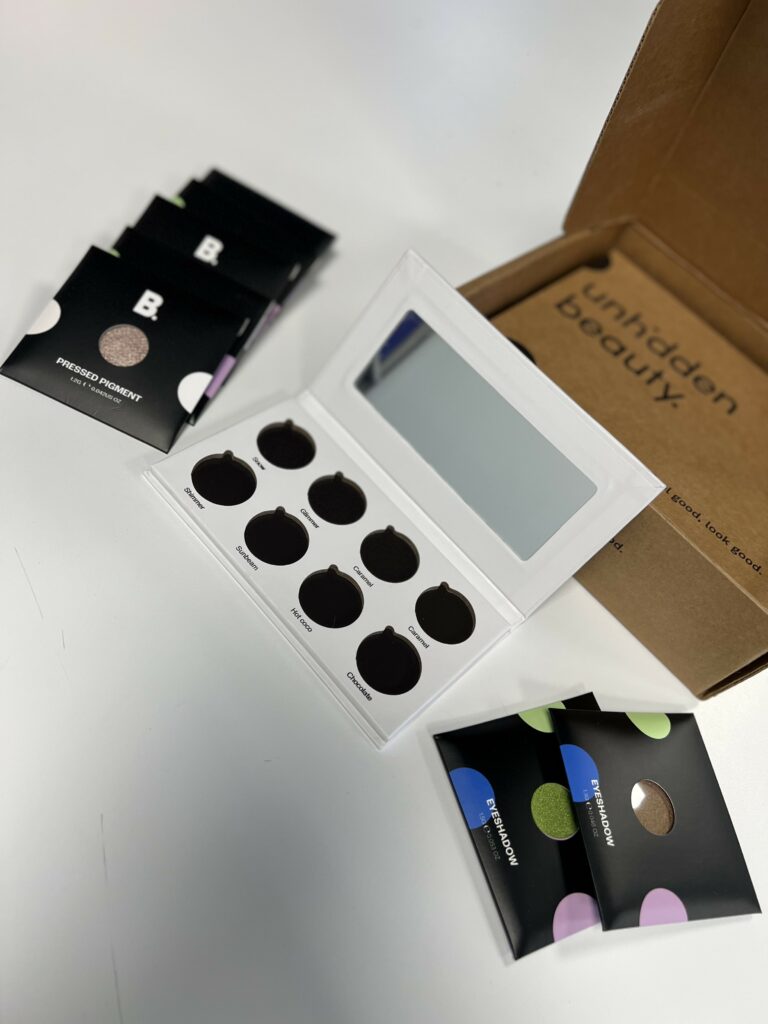 Shipping
Speaking of shipping, Print Bind Ship handles that, too. Once your customer's order is in, packed and ready to go, we'll ship worldwide within 24 hours of the order being processed. Our shipping is as secure and safe as our warehousing, so you can expect that your customers won't get any spoiled or damaged cosmetics.
Order and Inventory Management
We never leave you out of the loop, and we wouldn't offer you this beauty product fulfillment guide if we didn't enjoy providing you with information. Print Bind Ship's order and inventory management software links to your e-commerce store so you can track your orders, see your inventory and process your analytics for updating or changing products.
Returns
Sometimes, orders have to be returned. Don't worry, though. This process isn't your problem. Print Bind Ship handles the returns for you. We'll provide your customers with return information and process those returns in our warehouse.
You'll be notified, of course, but handling it won't be your concern. If the product can be restocked, we'll do so, and if not, we'll take care of the disposal.
Partnering with a 3PL Company for Beauty Product Fulfillment
Handling beauty-product fulfillment can be a pain, especially with how many moving parts there are to the process. That's why a third-party logistics (3PL) company like Print Bind Ship can be a game-changer.
Ease
3PLs handle taking stock of products, warehousing and tracking them, fulfilling orders and packing and shipping those orders. You won't have to take care of any of the grunt work.
Storage
Space is at a premium these days, and we've got plenty. Not only does Print Bind Ship have warehouse space to spare, but we track every item in and out of each of our warehouses, too.
Cost-Effective
Time is money, and you might not have much of it, but that's OK. Rather than trying to find a warehouse to store your products, acquire an inventory management system, hire employees to process, track, pack and ship items and handle returns, you can let Print Bind Ship do all of it for far cheaper than you could do it yourself.
Flexibility
Want to change product lines, update your branding and graphic design or expand into new markets? Print Bind Ship will grow with you and scale with your needs. We're flexible.
Expert Guidance
We've been doing this for a long time and know how to absolutely kill it at beauty product fulfillment. Our experts provide winning designs, expert forecasting, easy software integration and top-notch customer service.
Print Bind Ship Makes It Easy — That's the Beauty of Order Fulfillment!
We want to provide you with more than just this beauty product fulfillment guide. Print Bind Ship will handle every step of the fulfillment process, from product storage and warehousing to packing and shipping to returns.
You get peace of mind and awesome customer satisfaction with our fulfillment services. We work with cosmetics brands around the world, and we're ready to show you why. Contact Print Bind Ship and get started today.
FAQ
How do you distribute beauty products?
With a 3PL partner like Print Bind Ship, you can handle beauty product fulfillment with minimal time investment. The 3PL handles the products from the packaging and design process to customer shipments worldwide.
Where can I sell my Skincare products?
Whether you decide to sell cosmetics in a retail space or exclusively online through an e-commerce shop, you can rely on Print Bind Ship to get your products into the hands of customers.
What are the secrets to success for beauty product fulfillment?
The most important secret is partnering with a reputable fulfillment company like Print Bind Ship. Then, you will need to follow analytics to closely monitor which products sell and which products might need an overhaul. Beauty product fulfillment allows for much customization and on-the-go changes, so follow trends in the market.